David has extensive experience in advertising and marketing design—sixteen years in a corporate setting and sixteen years + on his own. His experience includes both digital and print so he knows exactly how to put together an outstanding, eye-catching end product. We can create the right combination of style and text to get your message noticed.
Catalogs and Brochures
Organizing information into a publication is one of David's strongest skills. Your brochure or catalog will be set up with a creative and persuasive presentation and will go to print with David's reputation for rarely ever needing attention after it goes there.
---
Print Advertising
---
American Education Group and Lexis Prep
We created this beautiful tri-fold brochure for the American Education Group to promote their Lexis Preparatory School in Arizona. Sallie worked with the client to create the message, while David created an attractive layout featuring images of students from the school, a couple stock photo images, and additional graphics.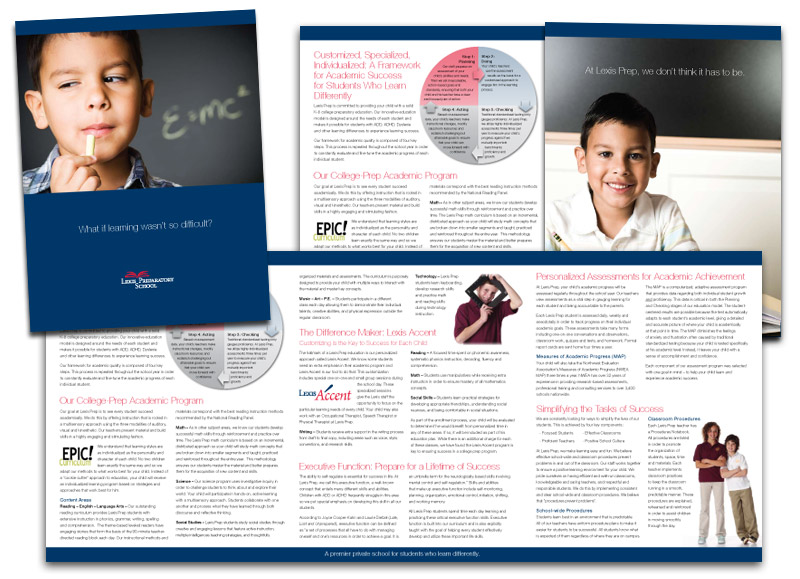 ---
Shreiner Academy Speaker Series
Shreiner Academy is a private school located in Marietta, Georgia, that offers "a remarkable private education" for toddlers through eighth grade. We created this brochure for their Speakers Series. David created a series logo, playing off the Shreiner logo by adding an eye and an open mouth plus a microphone. Other design elements of the brochure were contained in half-circles with the school logo colors.
---
Wondermaps for Bright Ideas Press
Creating a logo and overall identity for a product can create magical results. We worked with Bright Ideas Press on a project called WonderMaps, a unique product allow users to customize the printing of maps. Different layers of map data can be turned on or off creating endless possibilities for educational users.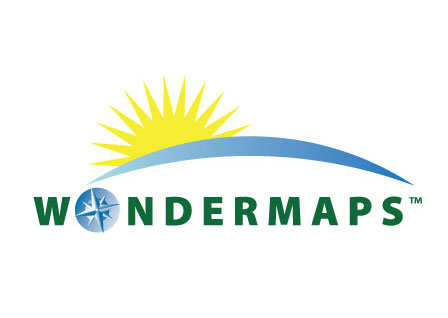 David first worked on the logo identity for WonderMaps, and this design became one of his personal favorites. He especiallys like the dynamic feel of the sun and globe arc in this design.
The next step was to help create the splash page for the program. He created a world map background combined with the logo, thus creating the visual branding identity for WonderMaps. The splash page features a set of buttons for use with the different categories of maps and other tools in the program. After this was created, there was much work for Bright Ideas Press to create the hundreds of map files that would be included in the program: state maps, world and country maps, historical maps. In the end, a rich set of maps was created.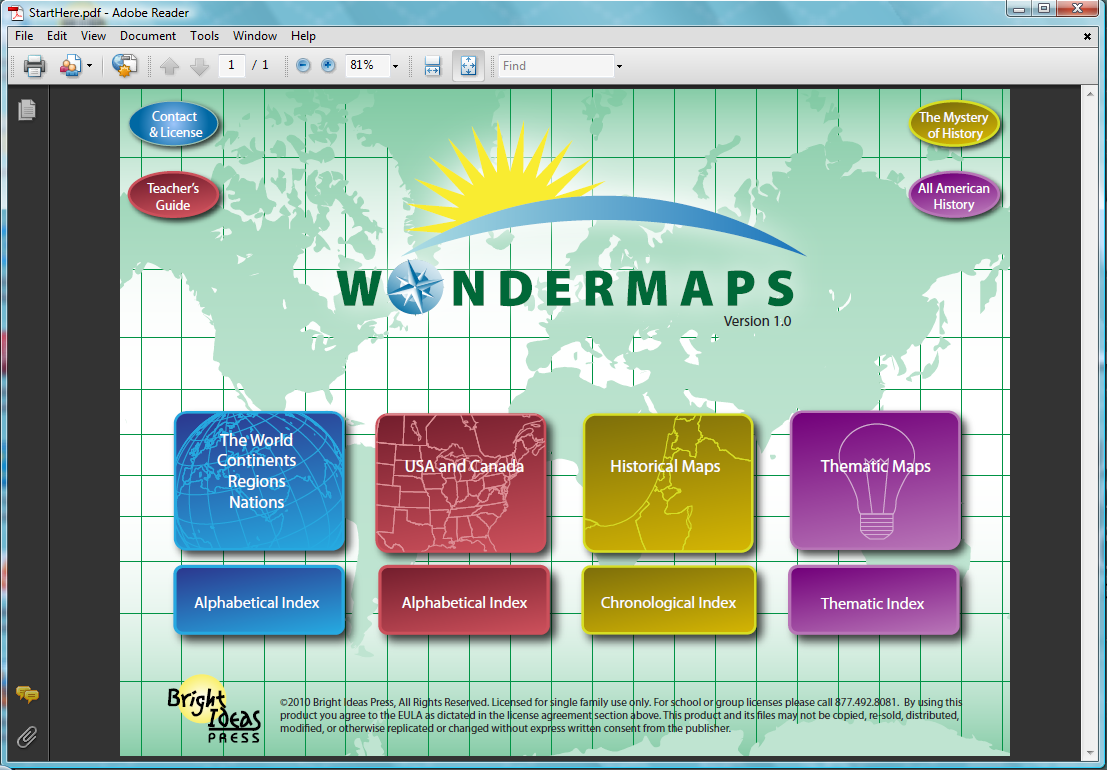 As we got closer to completion, Sallie got involved in the project by writing promotional text for the CD case wrap and for print advertising. The headline, "Maps Could Become Your Favorite Part of Teaching" speaks to the fun and ease of use WonderMaps provides. Maps and geography add so much to the learning experience and we wanted to make sure that message was carried through the promotional materials. David designed the CD case wrap with the world map and logo branding, adding a few screen shots of the interface. For the front panel he came up with a simple visual demonstrating the capabilities of the program. By putting a world map interface and three examples of how it could be customized, the message is simple: "Pick your features! Print your maps!" That's WonderMaps in a nutshell.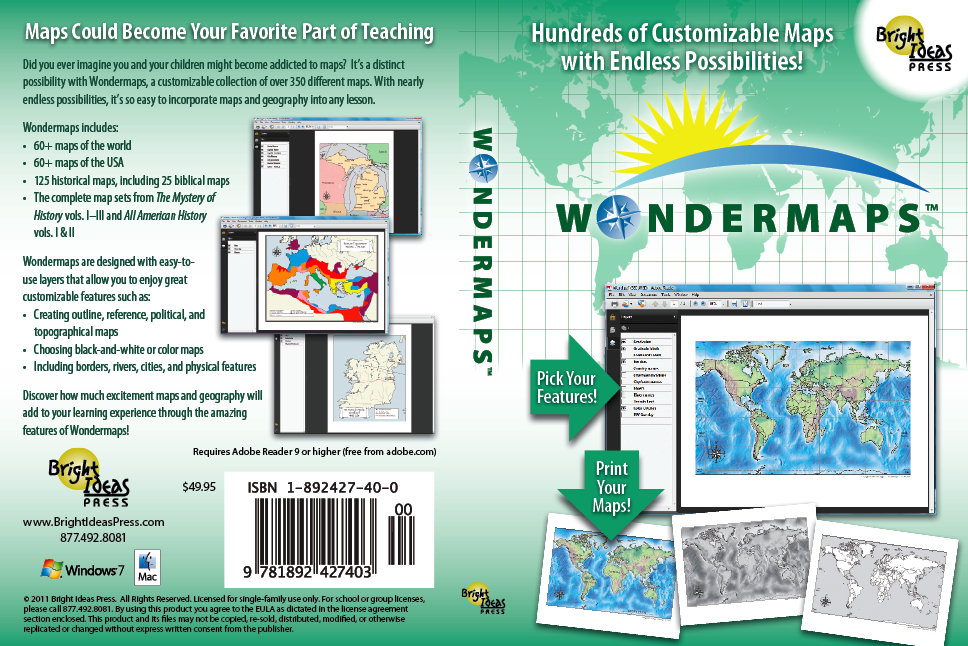 For promoting WonderMaps, a print ad was developed and has started running in some educational magazines. We created graphics for the Bright Ideas website. Sallie wrote text for the print ads as well as the text for the WonderMaps page on their website.
The end result is a very nice presentation for a dynamic and unique educational product.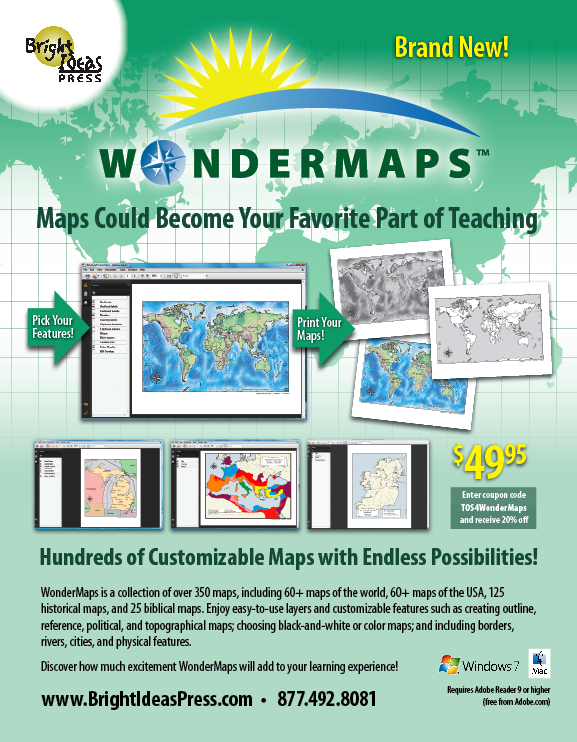 ---
Specialized Services Education Group
The Specialized Services Education Group asked us to design a rack card for mailing purposes, using information and graphics from their website for the content. David re-created the artwork from the website in vector format and matched the fonts and design.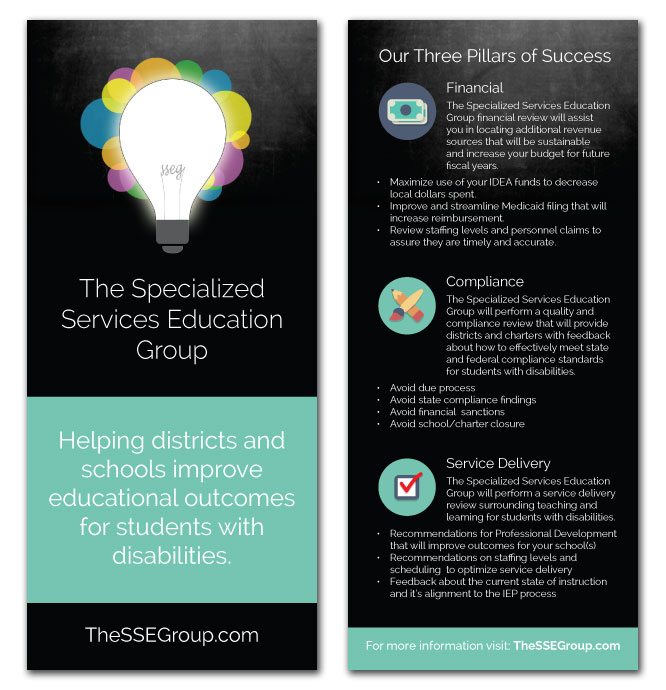 ---
Gold Country Adventures Map
David created this beautiful map illustration for a center spread in Gold Country Adventures, a travel brochure for the Gold Country area of California.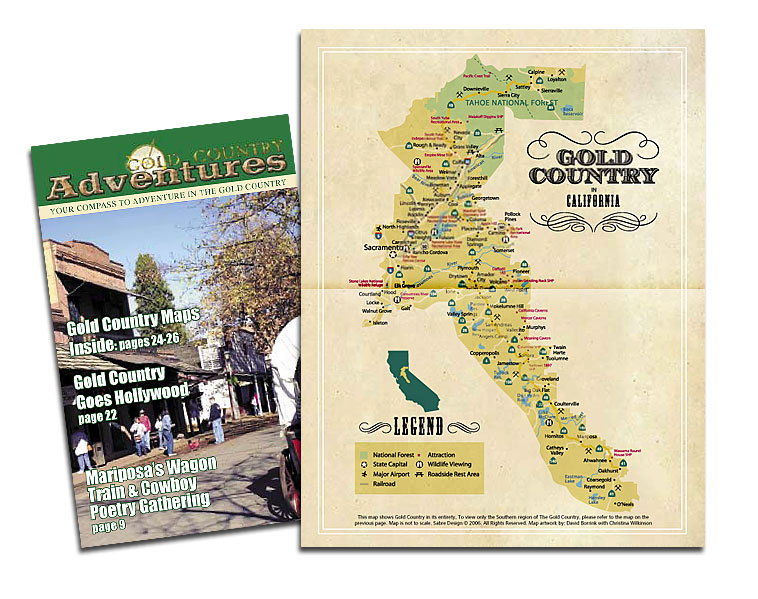 Save
Save
Save
Save
Save
Save
Save