A website or blog is the center of your online success. We love helping people establish the very best online presence possible. Whether it is starting from scratch, improving an older site, or making it mobile responsive, we have the experience and know-how to make it great. We design using the Genesis Framework so you get the most stable and responsive platform currently available. Here are a few before and afters to give you a peek at the wide range of projects we collaborate on with our clients.
---
Unleash Your Higher Self
Katie Stokes contacted us to create a web site for her Healing Energy business. Her front page features several sections to promote her services, with a testimonials slider and scheduling feature. David also created her logo.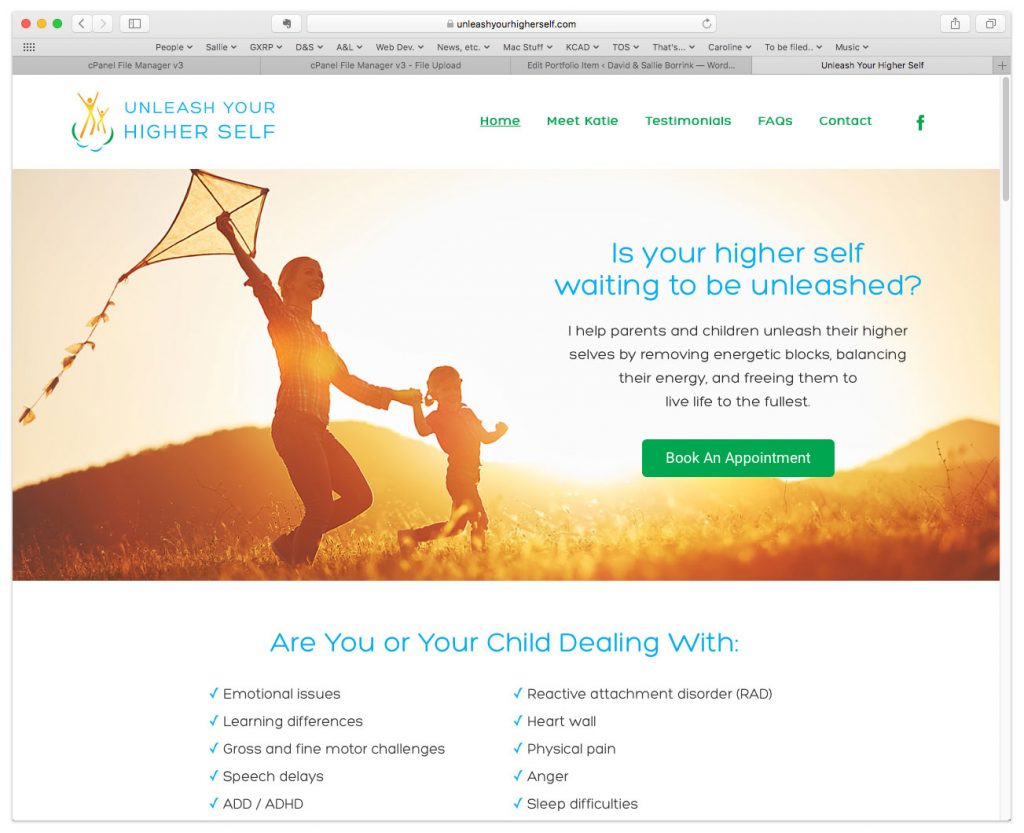 Other features include a responsive slider setup and FAQ drop-downs. All this in a mobile responsive custom theme in the Genesis Framework.
Visit Unleash Your Higher Self
---
Bellemore Septic, Sewer and Drain
Bellemore Septic, Sewer and Drain came to us to update their website, which was not mobile-friendly and needed to be re-branded in order to promote their new residential services.

We created a new site in WordPress and came up with a presentation solution to unify their services, replacing their static HTML site which looked like two different sites for their divisions. Larger, full-width dynamic images which adapt to different devices show the wide variety of services Bellemore provides all over New England.
---
Michigan Prosperity Project
Michigan Prosperity Project contacted us to come up with a new look for their site to emphasize several issues within the immediate visible front page instead of a large lifestyle shot.

We created a new theme to achieve their goals with a new four panel front page promoting News, Issues, their blog, and an Involvement page. This site was created within the Genesis Framework setup on WordPress.
---
Purity Press Books
Purity Press asked David to help make their site easy to look at and use. Their previous theme's promotional slider wasn't working correctly, the typography was difficult to read on shop pages, and there seemed to be too much emphasis on hip site design, and not enough on books.

We created a cleaner theme for the site, set up a prominent promotional area on the front page, organized their WooCommerce store so that the printed and ebook versions are variations of the titles, and made sure everything looked and worked as it should. Now they're ready to roll…
---
Grapevine Studies
Grapevine Studies sells Bible studies in a unique format: users get to draw stick figures! Dianna Wiebe's product line had grown to over 700 titles so her website was starting to become overwhelming for customers to navigate. We worked with Dianna to create a WordPress site integrated with WooCommerce, coming up with a strategy to re-organize the main titles into single product pages and offer all the versions as variations of their titles. So instead of over 700 product pages, there are now a little over 100, making it much easier to manage the presentation of many related titles. Now Grapevine Studies is much easier for customers to shop, and easier for Dianna to manage.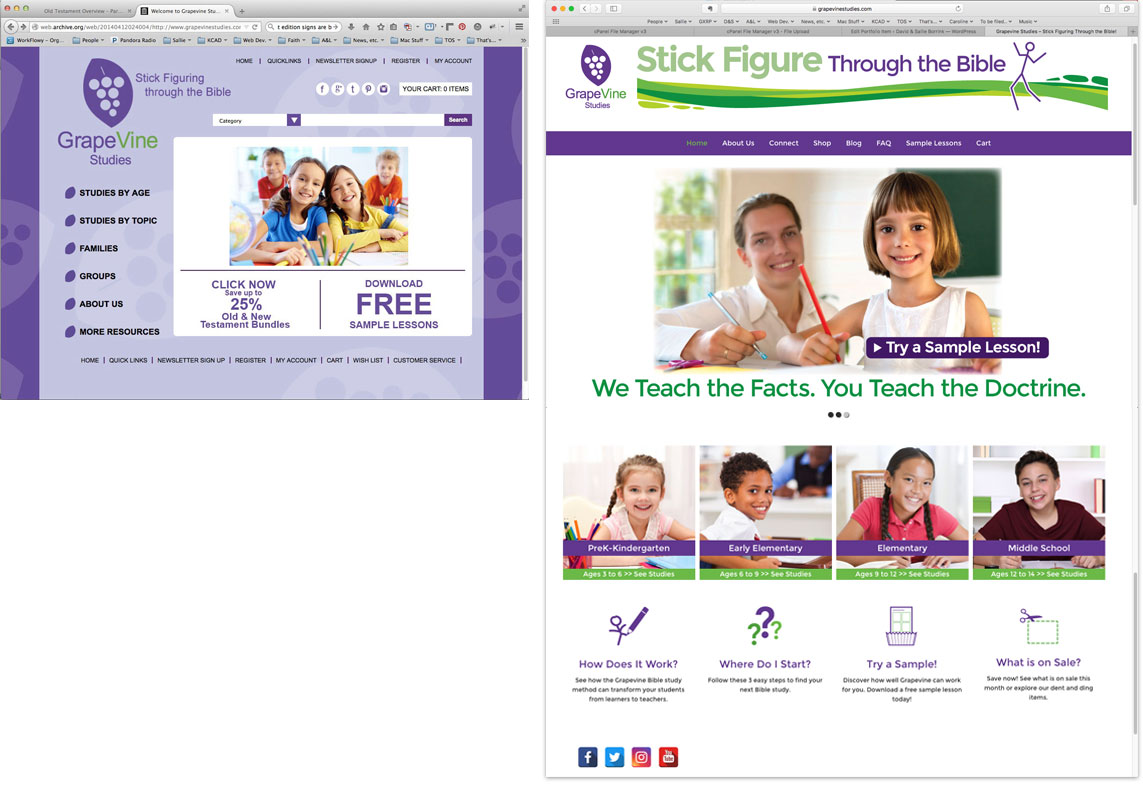 We came up with a clean site design that lets the products be the star without a busy background of branding colors and logo elements. The front page also features links to help topics. It's a much better experience for customers.
---
Goedecke Paint, Flooring & Design Center
Goedecke Paint, Flooring & Design Center, located in Bedford, New Hampshire, wanted their website to be mobile-friendly and to have a fresh new look. We created a WordPress site for them which features all their departments and a customized blogging setup for news and decorating tips.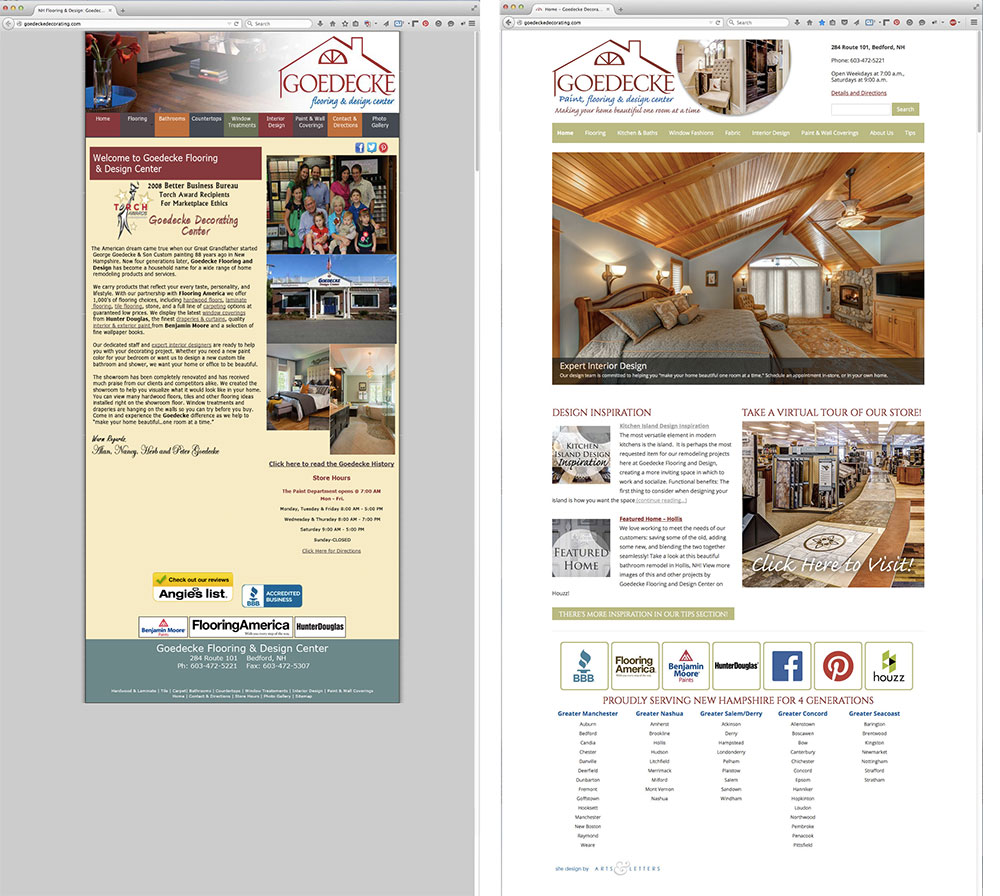 We cleaned up their front page design with a slide show, featured areas with their most current tips, a link to a virtual store tour, and redesigned icons to their vendor "micro-sites" and social media pages. The department pages now feature attractive headers from photos of Goedecke projects, custom excerpts from the tips area, and groupings of links to other related departments. The tips area is set up to allow customers to pick categories from the pull-down menu or browse through the most recent tips posted. Excerpts are shown, with links to the full tip post.
Visit Goedecke Paint, Flooring and Design Center
---
Leap In 2 Learning Blog
Leslie's blog was okay, but she wasn't excited about it. It wasn't working the way she wanted it to. It lacked true mobile capabilities and it didn't respond well due to extra features that hindered its performance. The sidebars were too far to the right, the header had social media icons that didn't work, and there were many cosmetic features she wanted changed.

David took over and worked with Leslie to make it work the way she envisioned it. The website was already set up on WordPress, so all David needed to do was re-create it properly in a new mobile-ready theme and make it fit Leslie's vision. A new header graphic, social media buttons re-created as their own graphic and placed to the right of the header, a new subscription sign-up block that stays near the top when viewed in mobile (while the rest of the sidebar items drop down below the content), better content spacing, better social media sharing options via Sumome— these and many more cosmetic improvements and subtractions were made.
Leslie's excited to blog again now that she has "so much more social media love in it."
---
Web Graphics
We have extensive experience creating web graphics for websites, Pinterest, Facebook and more. Here are a few examples of graphics designed for Sallie's website.
Save