David spent four years in package design for a large retail corporation so he's learned the ins and outs of effective package design. He enjoys taking that knowledge and applying it to clients' products. Below are a few of the diverse packaging projects he's collaborated on in recent years.
Dianne Craft Video Series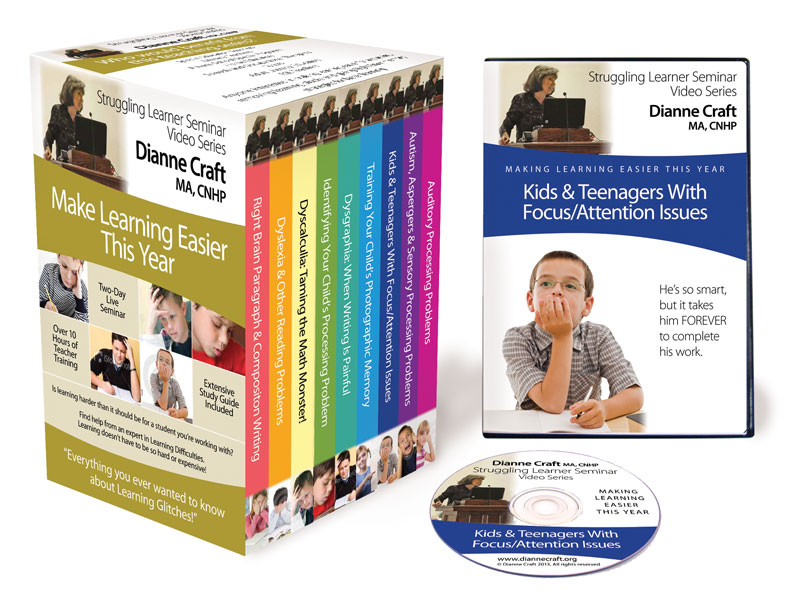 Dianne Craft works with parents and their children who struggle with learning due to a "glitch" in the processing of information (sometimes referred to as a learning disability). She recently had nine of her presentations videotaped and produced for DVDs for purchase by parents and educators. These videos cover topics such as "Autism, Asperger's & Sensory Processing Problems," "Dyslexia & Other Reading Problems," and "Kids & Teenagers With Focus-Attention Issues".
We designed a consistent look for all nine DVD case covers, disc labels, and the outer box. Each video is available for individual purchase as well.
---
Rhino Seed Products
Rhino Seed is a leader in the seeding and mulch market with many different products for home and large-scale projects. If you've ever seen those long straw rolls placed on hillsides of road construction projects, you've seen Rhino Seed products.
David developed package designs for a number of Rhino Seed products, including their EZ-Straw Seed Mulch, E-Z Lawn Repair Mix, Animal Bedding, Just Straw, and Wildflower Mix.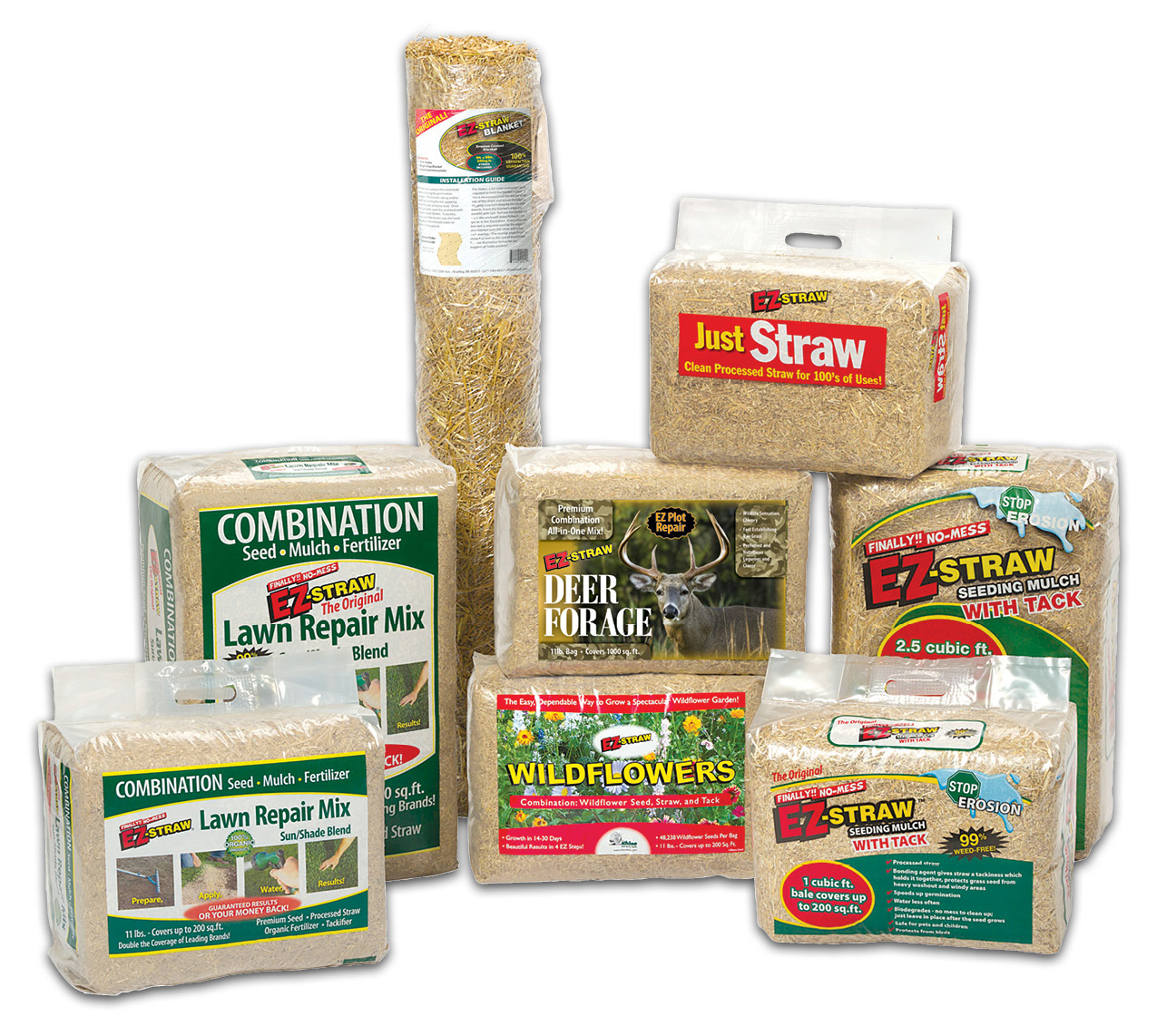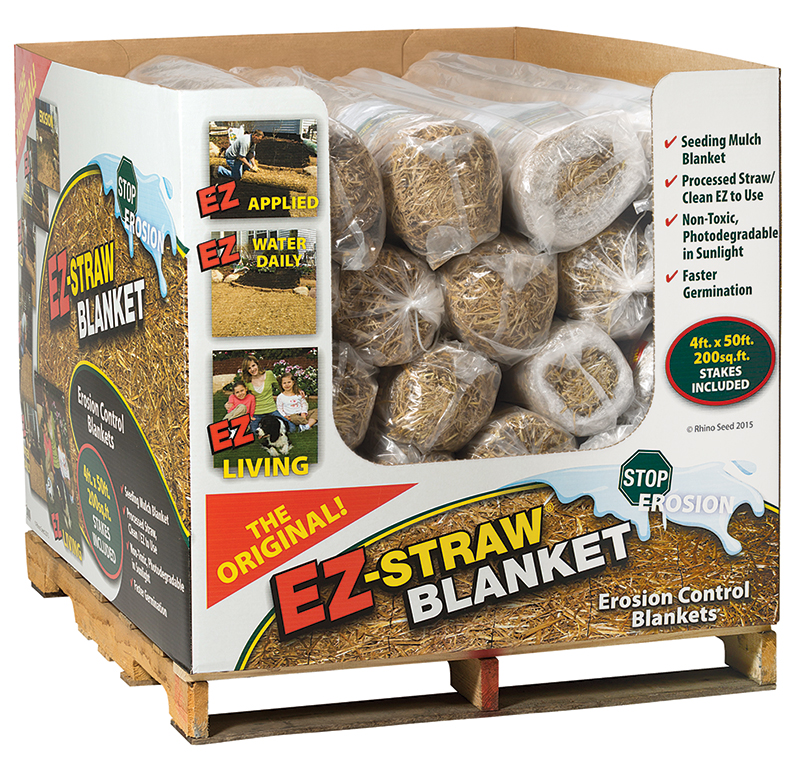 ---
Wriggly Giggly Songs for Jellybeans Music
Jellybeans Music offers award-winning interactive Music, Movement and Sensory Fun classes for babies, toddlers and preschoolers in the United Kingdom. Jellybeans Music asked us to create CD labels and jewel case inserts for "Wriggly Giggly Songs." This collection of 19 fun songs has been a big hit for them.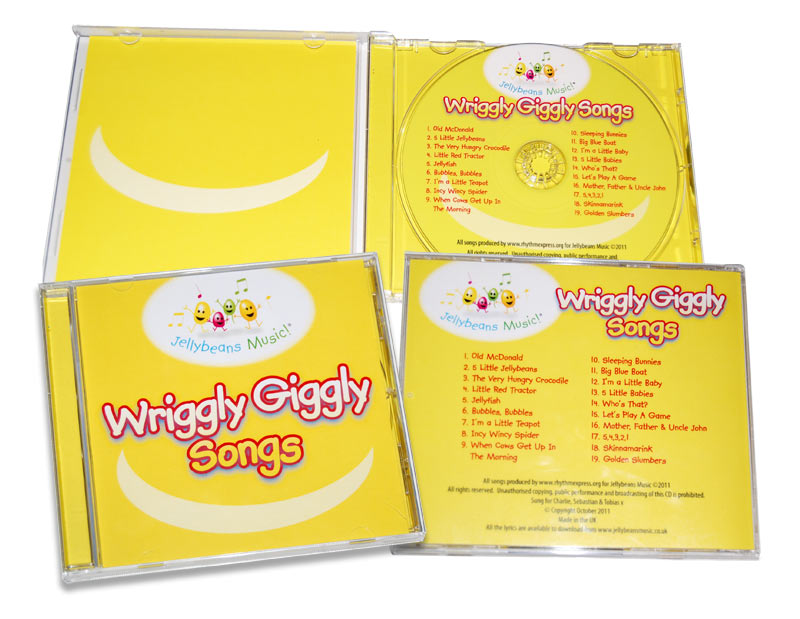 ---
CA$HSPIRACY Game
We enjoyed the opportunity to design the board game CA$HSPIRACY for Johnvasron. The best way to describe this game is "Monopoly on steroids." Game play is much faster and more active than Monopoly because what happens to one player can have multiple effects on other players at any given time. And just when you think you might have the game won, something happens that can be financially devastating and suddenly you've lost it all. It's not over til it's truly over.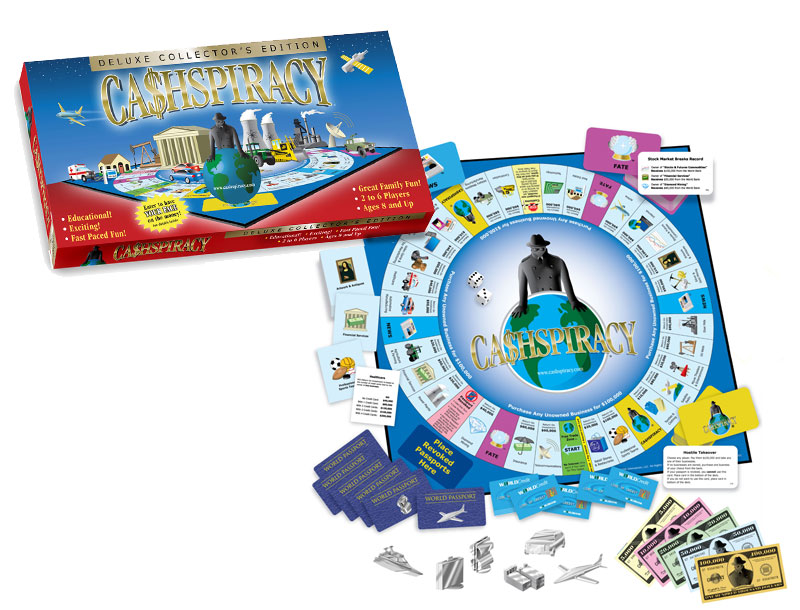 From the developer's thoroughly researched and tested prototype board and cards, we created an attractive package design, game board, cards, money, directions… everything but the die-cast metal playing pieces. (We did do nice illustrations of them for the passport cards.) Working on a board game was a great deal of fun!
---
Banana Guard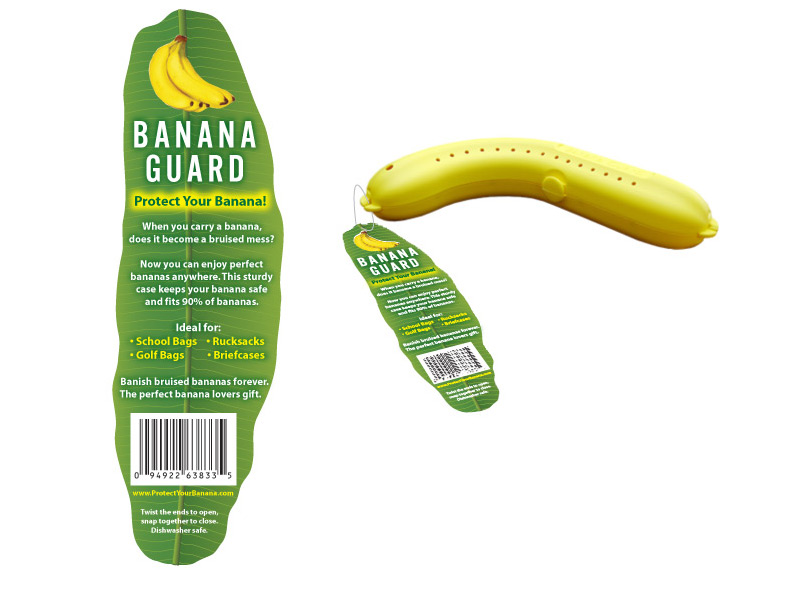 Banana Guard is one of the most unusual projects we've ever done. We created a hang tag for this cleverly designed case for protecting bananas. As it says on their website: "Are you fed up with bringing bananas to work or school only to find them bruised and squashed? Our unique, patented device allows for the safe transport and storage of individual bananas letting you enjoy perfect bananas anytime, anywhere. The Banana Guard was specially designed to fit the vast majority of bananas. Its other features include multiple small perforations to facilitate ventilation thereby preventing premature ripening and a sturdy locking mechanism to keep the Banana Guard closed."
So there you have it. The design incorporates their selling points on a die-cut banana leaf shaped tag.
Save
Save
Save
Save
Save